DUI Lawyer
Protecting your rights.
Your first consultation is always free.
In the eyes of the law, certain driving errors—such as a DUI— hold a special place because you are often held accountable for the impact of an alternative ending that may have left casualties in its wake. If you ever do, or if you have already have found yourself in a DUI situation, it is best to face DUIs head on and to be as prepared as possible for any legal jargon that will be thrown your way.
A DUI can have repercussions that influence the rest of your life. Therefore, it is important to select a competent attorney that suits your individualistic needs as a client.
Three Steps to Hiring a DUI Lawyer:
Our team here at Alvine Law Firm, LLP is here to meet with you to talk about your DUI case. But it is important to find the lawyer that you are most comfortable with. Here are some steps to hiring a criminal defense lawyer.
Do your research.
If you are just starting to look for a DUI lawyer it is important to research thoroughly and intentionally about the specific skills a lawyer has what they are willing/qualified to do. It is also crucial to keep in mind that though you may be friends with a lawyer, it does not make them the right lawyer for your case.
Meet the attorney.
When meeting with an attorney, honesty is always in your best interest. The attorney you are looking to hire needs to know everything about your case in order to make an ethical and hopefully winning case on your behalf.
If an attorney does not think they can handle or take your case on appropriately, honesty will serve you well as they may be able to offer you an alternative route. When you meet with your attorney it is important to bring all documents needed to have a successful first meeting (examples include: police report, DMV letters, and all documents related to the incident). Lastly, your comfort is also important in this case, therefore, here are some things to keep in mind/ask when meeting with your attorney:
Ask the attorney about his/hers experience. It is always important to be weary of an attorney who tells you they can without a doubt win your case—there is simply no way of knowing that.
Ask your attorney about their court history. How many cases has he/she brought to trial? How many of those cases has been dismissed? How many DUI cases have they handled?
Leave the meeting with a clear strategy. When you leave your meeting with your attorney you should have a clear understanding of what comes next and what your attorney will be able to do/provide for you. Trust your gut and know that who you chose to represent you will have your best interest in mind.
Set a Price.
What is the price of a DUI lawyer? Well, it can vary quite a lot. It is important to weigh your options. Do you go with an attorney who does not charge as much but also lacks in experience? What about someone that may not have the best reputation? Or is the additional expense worth it to have a lawyer with a credible reputation? Most importantly, your attorney's cost should be well understood in advance. There should either be a set hourly rate or a flat rate. Be sure to discuss all additional fees such as trial expense from the outset.
At Alvine Law Firm, LLP we have spent thousands of hours fighting for individual's rights after a DUI charge. Our team is ready to sit down with you and find a course of action that is right for you.
Criminal Law Resources
Learn about your rights and how we approach criminal defense cases here at Alvine Law Firm, LLP.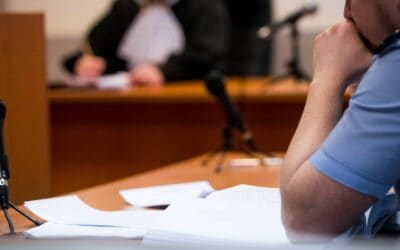 Having to go to trial can cause anyone anxiety. After all, there's a lot of uncertainty about what will happen. The unknown about the outcome is often too much for some people to handle. Deciding to plead guilty will speed up the process of your case; however,...
read more
Get the justice you deserve.